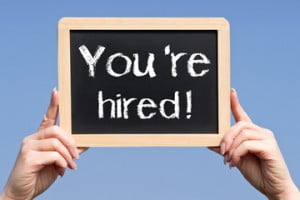 When it comes down to it, hiring employees for your business can be tough, especially if you run a new business. As a startup, it is essential to have a core team that you can rely on. If you have an established business, you may have even more riding on the line – your employees will be responsible for maintaining the reputation of your business and taking your company to the next level in terms of success.
During the hiring process, you want to meet certain crucial factors – you want your employees to have a clean background and you want potential candidates to be a good representation of what your business stands for. Here are five tips for hiring and recruiting the right employees for your business.
Use social media to attract new employees. Social media is a powerful tool when it comes to attracting new employees. Oftentimes, the most talented, connected and aware candidates are on social media. All you have to do is put the word out there and attract these potential assets for your company.
Hire a consultancy firm to create stunning compensation packages. It may also be smart to hire a consultancy firm to devise a compensation package that attracts the right employees. For instance, The Centre Group – a human resources hiring and recruiting consultancy firm – will create an excellent compensation package that will have the most talented and valuable players knocking on your business' door. In an age where competition is all about having the strongest employees, offering a competitive compensation package will be a powerful recruiting tool.
Be a leader in the interview process. In the interview process, it is important to be a leader – you want to learn the most about a particular candidate in the shortest amount of time possible. This is why you want to devise questions, riddles, and scenarios – anything that will draw out good answers. If you are looking for smart, constructive thinkers and people who know how to problem solve, you want to create real problems that they can solve right on the spot. This is a great way to weed out the good from the bad and streamline the hiring process.
Conduct rigorous background checks. On top of everything, you also want to conduct rigorous background checks – you don't want anything to slip through the cracks. Someone could look great upon first impression, but they could have a sordid history. You not only want to check for a criminal background, but you also want to investigate references. In a business setting, past behavior is often an indicator for future behavior, so you don't want to let a bad hire take your business down.
Be open-minded. It is also invaluable to be open-minded. If you want to hire the best, you want to see past a lot of things that may not fall into your realm of what you consider "normal." It is a different world out there, so you want to sharpen your vision for the changing times and attitudes – only then will you be able to assemble an invincible workforce.
["source-businessmerch"]