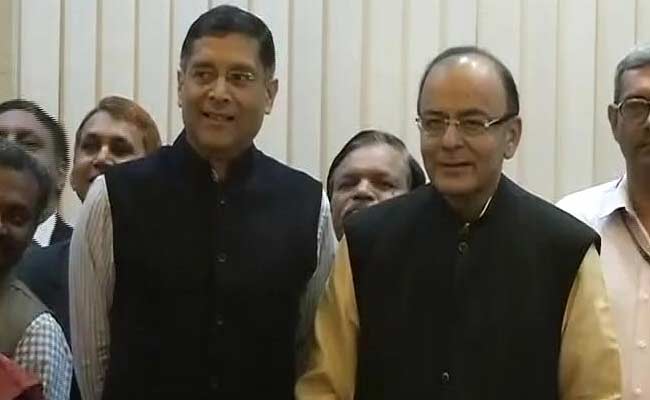 NEW DELHI: 
HIGHLIGHTS
Arvind Subramanian, Chief Economic Advisor, discussed as new RBI chief
BJP's Subramanaian Swamy tweets "Sack him!"
Swamy led shrill campaign against RBI Chief Rajan, who has refused Term 2
BJP leader Subramanian Swamy has a new target: Chief Economic Adviser Arvind Subramanian, who is among those being discussed as the likely new chief of the Reserve Bank of India.
On the weekend, Raghuram Rajan, who was attacked publicly by Mr Swamy on grounds that included being "mentally not fully Indian", announced that he will not seek a second term as RBI Governor.
Mr Swamy, who wrote multiple letters to Prime Minister Narendra Modi demanding that Mr Rajan be denied an extension at the central bank,  tweeted today "Sack him!" about Mr Subramanian. Like Mr Rajan, the Chief Economic Adviser has been attacked by Mr Swamy for being a green card holder and of earlier backing Washington in a row over intellectual property rights.
Mr Swamy's attack was crushed by Finance Minister Arun Jaitley who said at a press conference, "The government has full confidence in the Chief Economic Adviser".
Mr Subramanian worked with Mr Rajan at the International Monetary Fund and replaced him as Chief Economic Advisor in 2014.
Mr Swamy, a Harvard-educated economist, was nominated to the Rajya Sabha by the BJP recently.  He met Home Minister Rajnath Singh this morning after his twitter diatribe against the Chief Economic Advisor.
Mr Swamy had alleged that Mr Rajan, as RBI chief, had deliberately hurt India's economy by refusing to drop interest rates – a move which many in the government criticized as preventing growth. The RBI Governor has said fighting inflation must remain a top priority. His decision to quit the central bank is attributed partly to the fact that the government made no strong condemnation of Mr Swamy's attacks on him.
["source-ndtv"]