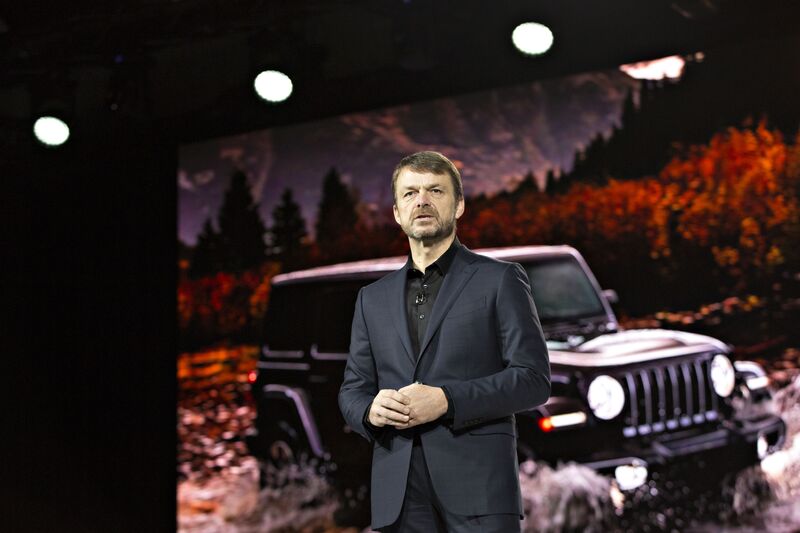 Mike Manley
Photographer: Daniel Acker/Bloomberg
The company is called Fiat Chrysler. But its success depends on another iconic brand: Jeep.
That explains why Mike Manley, a 54-year-old Briton, was picked to replace Sergio Marchionne, the automotive icon who was forced to relinquish the post of chief executive officer after 14 years due to the sudden deterioration of his health.
Manley has been head of Fiat Chrysler Automobiles NV's Jeep brand since 2009, the linchpin in the company's plan to double profit in the next five years. Already, the Jeep and Ram vehicles he oversaw were responsible for 67 percent of total U.S. volume in 2017, according to Bloomberg Intelligence.
Marchionne had been set to retire in April 2019. His unexpected illness accelerated the timeline for a decision on succession that was already seen as a crossroads for the company. Who would run the Italian-American automaker was just the first of a number of pivotal choices — like whether to remain independent — facing Chairman John Elkann, heir to the founding Agnelli family.
Manley will have a lot on his do-list — from electrifying the manufacturer's lineup to boosting luxury brands Alfa Romeo and Maserati, to raising the profile of Jeep in China. He also faces the test of meeting rigorous fuel-economy standards in Europe and China.
"He's not a guy with a huge ego. That's another reason why he'll be a good leader," said Rebecca Lindland, an executive analyst at Kelley Blue Book. "But he certainly has to figure out, make some tough decisions on which brands are struggling, and look at electrification."
The new CEO will start immediately, according to a company statement, underscoring Marchionne's decline, which prompted the extraordinary board meeting on Saturday. Marchionne, 66, is in worsening health following complications from shoulder surgery, the company said.
Manley joined Chrysler in the U.K. in 2000 when the carmaker was part of Daimler. He was named head of Jeep at the start of Fiat's five-year acquisition, and led the transformation of the iconic American brand into a cash machine. Analysts estimate that Jeep alone could be worth the entire $30 billion market value of Fiat Chrysler.
Colleagues describe Manley as serious and driven, a ferociously hard worker who inspires loyalty among his top lieutenants. He's candid, true to his word, and a good listener, but he also does not suffer fools, said David Kelleher, a Philadelphia-area Jeep, Ram and Chrysler dealer who has worked with Manley during his decade-long stint on the company's U.S. dealer council.
"When he sits in a room, if you're not a guy that works 80 hours a week, you're going to have a tough time keeping up with him,' Kelleher said. "He doesn't know what a weekend is; he's very much a protege of Mr. Marchionne."
At the April general meeting, Elkann and Marchionne both said that Fiat Chrysler is now strong enough to survive on its own and doesn't need a partner. Fiat reiterated this view on Saturday, saying Manley and his team will implement the business plan presented on June 1 to assure Fiat Chrysler's "strong and independent" future.
Click here for a timeline of Marchionne's transformative tenure
With Manley, Fiat's board also signaled that the Jeep brand was central to plans going forward. The board passed over two other internal candidates — Alfredo Altavilla, a close aide to Marchionne and a Fiat veteran who's overseen operations across the globe and now runs the automaker's European business, and Chief Financial Officer Richard Palmer, who is well known to Wall Street and helped combine the company's operations after the merger with Chrysler.
Jeep Targets
Manley had already been tasked with the biggest job of the five-year plan: Doubling Jeep sales volume by 2022 from the 1.4 million vehicles sold last year. He needs a 40 percent jump this year alone to meet the 2018 marker of 2 million set out by Marchionne.
The new CEO shares with Marchionne a direct style and and a penchant for casual clothing. He had sidestepped the question of whether he was ready to take the top post, always saying he was fully concentrating on his Jeep job.
"If I don't grow volumes with those opportunities, then we'll be sitting and having a different conversation next January, won't we?" Manley said in an interview this year.
Why current plans for Jeep may just 'skim the surface' of its potential
Rumpled Sweaters
Marchionne, known for his rumpled sweaters and nonstop work habits, was rivaled only by the Renault-Nissan-Mitsubishi alliance's Carlos Ghosn for longevity as an automotive CEO. He was appointed in 2004 as the fifth Fiat chief in a two-year period. He managed to return the carmaker, which had lost more than 6 billion euros ($7 billion) in 2003, to profit in 2005 by cutting costs and laying off workers, and then looked for a partner.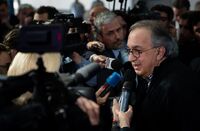 With the acquisition of Chrysler completed in 2014, Marchionne gave Fiat the global scale needed to survive. Still, as the world's seventh-largest automaker, the company may lack the size it needs to compete in an industry being reinvented by the emergence of autonomous driving and electrification.
Fiat Chrysler has been facing questions about Marchionne's health for almost a month — his last public appearance was June 26, when he spoke at an event in Rome. The company said on July 5 that the CEO underwent an operation on his right shoulder and was expected to require "a short period of convalescence."
Read about Marchionne's replacement at Ferrari
Filling his shoes won't be easy. The executive was one of the industry's most skilled turnaround artists, not only saving Fiat from potential collapse, but later engineering its acquisition of Chrysler, which likely wouldn't have received U.S. government backing for its 2009 bankruptcy without the involvement of its Italian partner.
Marchionne was preparing to slow down but wanted first to complete his plan to rid the carmaker of industrial debt, putting it in position to survive the next industry slump. "I am a fixer. Until something is definitively fixed, I can't stop," he has said.
["Source-bloomberg"]