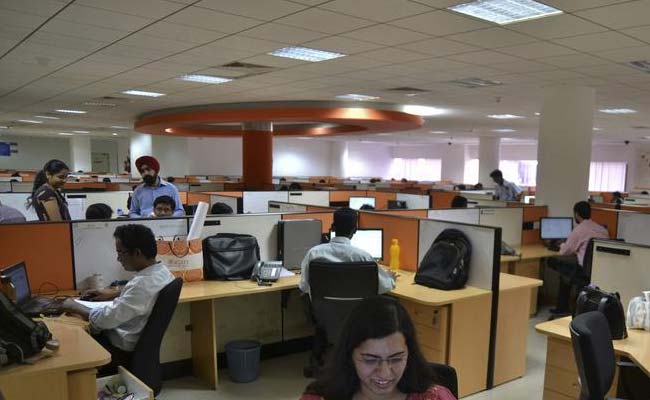 Proposed changes to the H-1B visa regime in the United States is seen as a big overhang for Indian IT firms. In anticipation of a tighter visa regime, many IT companies are boosting their local hiring and setting up new delivery centres in the US. Noida-based HCL Technologies is bullish on its growth plans and is not much worried about headwinds emanating from the H-1B challenges which have been threatening growth of the $150-billion Indian IT industry. Over 60 per cent of the revenues for Indian IT come from the businesses in the United States.
"We were very early in taking these calls for making our business model very resilient to any geographic and immigration challenges. Actually I am really surprised that some of the players are talking about adding people in the US now. It is something which we recognised 7-8 years back," C Vijayakumar, president and CEO of HCL Technologies, told NDTV Profit.
"We have 12 delivery centres in the US, 12,000 people onshore, greater than 55 per cent of them are locals. So we were ahead of the industry to really identify this risk and gradually mitigate it and that is one reason we are not concerned on the margins getting hit due to this particular element," he added.
India's fourth-biggest software services company HCL Technologies on Thursday reported a 28 per cent jump in net profit to Rs. 2,475 crore in the March quarter, exceeding analysts' estimates. HCL Technologies' management said that the good performance in the March quarter came on the back of robust growth in revenues from services like Internet of Things (IoT), cyber security, digital services, analytics, cloud services and product platforms. HCL Technologies' revenues in terms of constant currency grew by 3.8 per cent on a sequential basis and 16.1 per cent on an annual basis. Total revenues in dollar terms stood at $1,817 million, up 4.1 per cent sequentially.
Anil Chanana, chief financial officer at HCL Technologies, said the company will continue to invest in delivery centres in the US as well as other geographies.
"Hiring is factored in margin growth going ahead and we will continue to invest in delivery centres in US as well as in other geographies," he added.
Karan Puri, senior corporate vice president-head commercial industries and consumer services at HCL Technologies, gave an analogy about the situation Indian IT companies face today. "What Trump Administration is now saying or presenting itself as is not too different what happened to Japanese carmakers couple of decades ago. See what they (Japanese carmakers) did was they transformed the industry, they built locally, they created enough jobs locally and now they have become pretty much owner of that industry," Mr Puri said.
"In some way what we are trying to do is something which since last eight years we have been doing. We have built one location after other in the Americas, we have dozen delivery centres, we have majority non-visa workforce in North America and among Indian competitors no one else comes close we made those investments. We don't have to factor in increment in salaries because by design we hire more local talent."
["source-ndtv"]