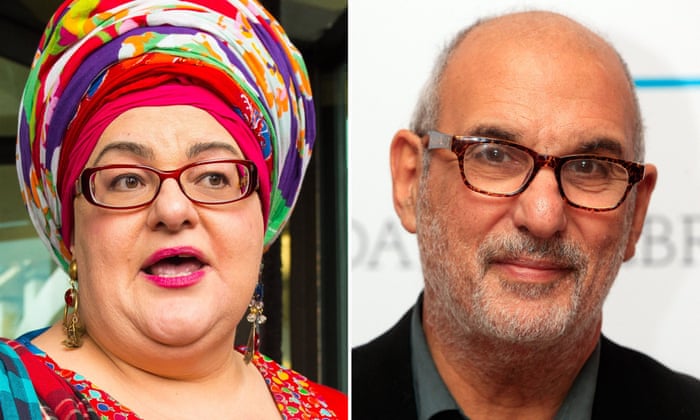 Camila Batmanghelidjh and Alan Yentob. The Insolvency Service said Greg Clark intends to bring the proceedings. Photograph: PA
Former board members of the collapsed charity Kids Company including its founder, Camila Batmanghelidjh, and the former BBC chief Alan Yentob face being banned from serving as company directors from up to six years.
The Insolvency Service has written to the former directors to tell them that the business secretary, Greg Clark, intends to bring disqualification proceedings against them.
The body had written to the directors in April to tell them it was minded to pursue disqualification proceedings.
While the proceedings can be lengthy, if successful they would ultimately force Yentob and the other board members to relinquish any directorships they hold. Yentob is listed at Companies House as a director of a television production business called I Am Curious, which he established last year.
An Insolvency Service spokesman said: "We can confirm that the Insolvency Service has written to the former directors of Keeping Kids Company [as the charity was renamed amid its collapse] informing them that the business secretary intends to bring proceedings to have them disqualified from running or controlling companies for periods of between two-and-a-half and six years.
"As this matter will now be tested in the court it is not appropriate to comment further."
The Insolvency Service said the next step in the process would be the filing of proceedings in the high court. The proceedings will name Batmanghelidjh and all eight former directors: Sunetra Devi Atkinson, Erica Jane Bolton, Richard Gordon Handover, Vincent Gerald O'Brien, Francesca Mary Robinson, Jane Tyler, Andrew Webster and Yentob.
Handover is a former boss of WH Smith, Webster is a former executive at the drugs company AstraZeneca, while Bolton is an arts publicist.
Batmanghelidjh, the former chief executive, was not formally a director at the time the charity collapsed. But the proceedings will allege that she acted as a de facto director and should therefore also be disqualified from running or controlling other companies.
Kids Company collapsed in the summer of 2015, a month after it received a £3m government grant backed by the then prime minister, David Cameron.
Batmanghelidjh and Kids Company staff blamed the collapse on a police investigation into sexual and physical assaults within the charity, which was ultimately dropped. A review by the Charity Commission into the financial collapse is continuing.
A damning report by MPs found the "negligent" trustees of Kids Company, held in the sway of an "unaccountable and dominant" Batmanghelidjh, were ultimately responsible for the collapse of the organisation.
Yentob, the chair of trustees at the high-profile charity for 19 years, was criticised for his repeated denials that there had been historical failures in its financial management. The report by the public administration and constitutional affairs committee called for a radical change in charity regulation to prevent a repeat of the "extraordinary catalogue of failures of governance and control" that led to the charity's collapse.
["Source-theguardian"]