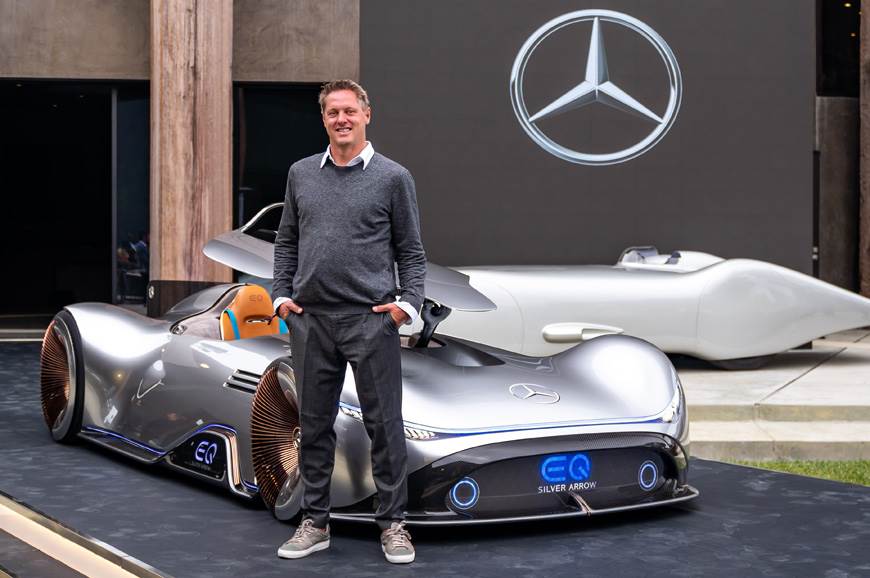 Mercedes-Benz design head Gordon Wagener feels traditional shapes will stay but EVs will have very different proportions.
Mercedes-Benz continued its run of wowing showgoers at the Pebble Beach Concours d'Elegance with the unveiling of the stunning EQ Silver Arrow concept this year. The impressive single-seat model pays homage to the Silver Arrows racers of the 1930s, in particular, the W125 Rekordwagen that set the record for the fastest speed on a public road (432.6kph) way back in 1938, a record it held for nearly 80 years.
Speaking to Autocar India about the concept, Gordon Wagener, head of design at Mercedes-Benz said, "Everything is heritage and future at Mercedes. The Silver Arrow is the biggest icon for Mercedes-Benz. Doing a redesign and, especially for our EQ brand that is for progressive luxury, shows that we can take that heritage and interpret it into the future."
While the EQ Silver Arrow is unlikely to see production, Wagener did confirm certain styling traits will make it to the EQs of the future. In fact, the Silver Arrow's reveal comes just days before the first production model from Mercedes' electric arm, EQ, makes its debut on September 4. While teaser images suggest a conventional SUV shape for the EQC, Wagener cited there's a different approach when designing EVs.
"If you see the EQ Silver Arrow, it's a typical rear-wheel drive form. It's got the perfect dash to axle ratio. Think of the 300SL. This is Mercedes. The long hood, the cabin that sits on the rear wheel…. is basically the best and sportiest proportion. We make sure when we start an architecture, we have this proportion. It's a combustion engine proportion and we will keep that for that. Electrics will enable us to change the proportion. First of all, it is needed to make EVs look different from the rest of the line-up. Then for the packaging. A long wheelbase is needed for the batteries so there are short overhangs. Therefore, it makes more sense to go more cab forward. You can also use space better. The footprint of an EV is a better and efficiency of interior space. It would be different. It makes no sense to make them the same," explained Wagener.
Like upcoming EQ models, the Silver Arrow also features a full-length front and rear lighting arrangement that will be the defining design feature of the sub-brand; the same way in which Mercedes-Benz, Maybach and AMG models are immediately identifiable by their grille. The EQ Silver Arrow was equipped with a 750hp electric motor that is said to be in development for future performance EQs as well.
["Source-autocarindia"]