The Dash Coin Wallet, its Utility, and Worth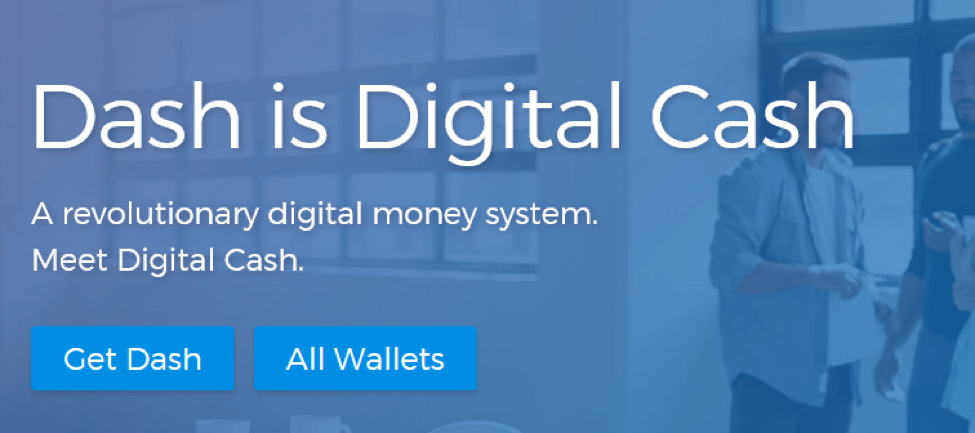 Author's Snapshot of the Dash Homepage
Cryptocurrency investments have skyrocketed ever since Bitcoin (BTC) crossed the 1000USD mark back in December of 2016. At the end of that year, the cumulative crypto market valuation was about $17 billion. Now, this value has grown to hundreds of billions in USD.
Bitcoin being the pioneering Cryptocurrency, of course, has its fundamental flaws. One of such is its inability to solve anonymous and private transactions. Hence, the development of a new breed of cryptocoins known as Anonymous Digital Currencies; with Dash as one of these new breeds. The utility of Dash coin wallet is widely reported as the underlying coin ranks among the Top 20 most-capitalized crypto.
Dash – What is it? And When and Why was it created
Birthed in 2014, the name Dash was derived from a blend-word (D-igital C-ash) was previously referred to as DarkCoin. Dash is a digital currency designed to guarantee anonymity and user privacy. Unlike Ethereum or Stratis which are largely development platforms, Dash professes itself as a P2P decentralized e-cash and its intention is to assume real cash liquidity as much as possible.
Dash was developed from an adaptation of BTC's core code with the inclusion of new features such as faster transactions and anonymity. Like a few other coins, Dash has its own DASH coin wallet infrastructure, community and a personalized blockchain; plus, it is open-source. In comparison to Bitcoin, Dash boasts a negligible transaction fee.
Now, the amount of Dash (DASH) in circulation is approximately 8.47 million and each unit is priced at $86.83 to a DASH.
Dash Coin – Wallet Infrastructure
A Dash coin wallet is a software that allow users to send, receive and keep Dash. The Dash coin wallet is simple to understand and use; while also allow payments to be made anonymously using PrivateSend from your wallet.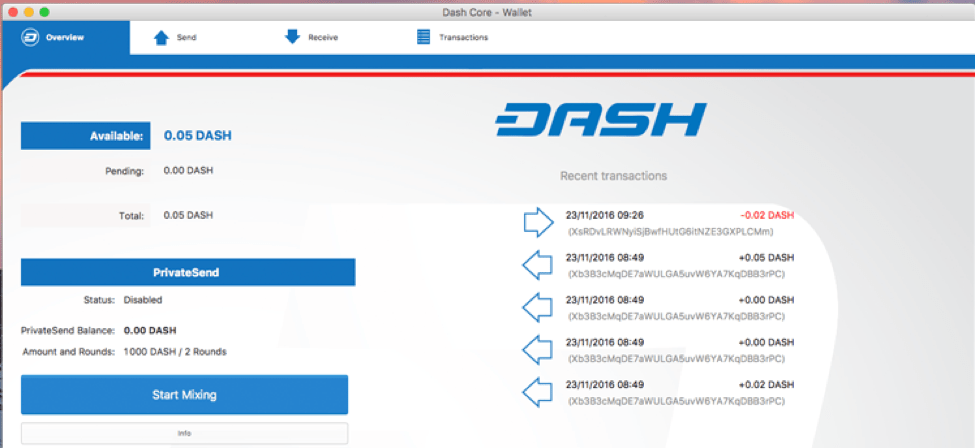 Dash Core Wallet Snapshot from Dash Homepage
Dash offers five (5) unique wallet options which are:
Dash Desktop Wallets – Dash offers its investors an official desktop compatible wallet that includes the InstantSend, Governance, Masternode management and PrivateSend features. The official Dash wallet is available for download via below:
Dash Core Win/64 Installer
Dash Core Win/32 Installer
Dash Core OSX
Dash Core Linux 32 Bit
Dash Core Linux 64 Bit
Dash Core Raspberry Pi 2
Four other desktop wallets recommended by developers are Dash Electrum (Dash light wallet), Exodus, Guarda and Jaxx
Dash Mobile Wallet: the dash mobile wallets allow users to store this coin on their phones. The widely known and utilized Dash mobile wallets are available on both Android OS and iOS. These wallet apps are downloadable via these links:
Dash Wallet by Hash Engineering – Android
Dash Core iOS
Edge Wallet – Android/iOS
Coinomi Android
Jaxx – Android/iOS
ABRA Wallet – Android/iOS
Ethos – Android/iOS
Evercoin – Android/iOS
Hardware Wallet: hardware wallets are a more sophisticated and specialized means of securing your digital currency. They are security devices that help prevent coin theft by thieves and hackers. Hardware wallets function together with the wallet software on your PC by taking charge of private key management and transaction signing. Such wallets are available for purchase and they include:
Guarda
Keep Key
Ledger Nano S
Trezor
Web Wallets: As the name implies, these type of Dash wallets are web-based. Web wallet are a secure alternative to the already mentioned Dash coin wallets. To create a Dash coin web wallet, check MyDashWallet (Web link) and Guarda.
Paper Wallet: paper wallets are essentially a type of cold wallets (offline mechanism) that allow users to copy and print private and public keys to enable them send and receive cryptocoins. This method has often been criticized as unsafe, but it is still implementable for Dash Coins. The paper wallet for DASH is the Dash Core Paper Wallet. You can setup a Dash coin paper wallet by following these setup instructions.
Benefits of Dash Coin Wallets
Dash was developed to improve on two of the biggest challenges facing Bitcoin: transaction speed and privacy. Coupled with its wallet infrastructure, it has been able to achieve this. Here are some of the benefits of Dash coin wallets.
Transaction Anonymity
Most Dash wallets boast the anonymity feature via their PrivateSend function except for Dash Electrum. According to the Dash Team, users can perform transaction anonymously using the PrivateSend feature. Such transactions are lumped with other anonymous transactions thereby making it difficult for anyone to tell where they originated from and where they are heading.
Instant Payments
By virtue of the InstantSend feature, payments are now being confirmed in just a fraction of a second as against Bitcoin transactions that take 7minutes to an hour or more for confirmation. According to experts, Dash's transaction speed has helped increase its consumer base to a large extent.
Conclusion
DASH wallets are easy to use (elegant UI) and are compatible with various operating systems. This detailed piece on Dash Coin wallet throws more light on Dash wallets and the various options available to you.