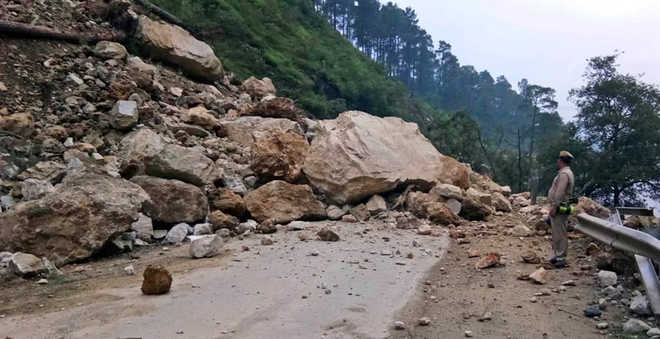 Bhanu P Lohumi
Tribune News Service
Shimla, September 16
Reckless cutting of hills for four-lane projects has become a bane of the tourism industry in Himachal Pradesh. Frequent landslides on national highways resulting in traffic blockage and even accidents were making the tourists wary of visiting the state.
There had been reports of the key Parwanoo-Shimla and Kiratpur-Manali highways being hit by landslides, spelling doom for the tourism industry. The dip in the tourist inflow during the current monsoon was as high as 50 per cent.
"Reports of landslides and disruption of traffic on key highways were hogging the headlines in newspapers and electronic media. Roads are full of potholes. As a result, the tourists had been forced to cancel bookings and prefer alternative destinations for holidaying," says MK Seth, president, Tourism Industry Stakeholders Association.
The occupancy in hotels during the monsoon, which was about 60-70 per cent before the four-lane work started, had come down to an abysmal 10-20 per cent. Now the work on the 70 national highways would further hit tourism, the Tourism Industry Stakeholders Association chief said.
"Stakeholders were not taken into confidence before planning and execution of four-lane projects. Alternative routes were not carved out while existing routes were not maintained properly, discouraging the tourists from visiting the state. Hotel occupancy, as a result, plummeted," said Anup Thakur, president of the Manali Hotel Association.
Bad road conditions and landslides had the worse impact on the adventure tourism in tribal areas and higher hills as travelling there turned a nightmare. The Sangla valley in Kinnaur district had remained cut off from the rest of the state for long. The Karcham-Sangla road, providing vital link to the valley, was blocked following sliding of a huge boulder at Rutrang in the wake of heavy intermittent rain in August, leaving 100 tourists stranded.
"During the monsoon, we used to take around groups of tourists, including a large number of foreigners, but this year reaching tribal areas and the base camp was a challenge and we preferred not to take risk," said Devender Rana, owner of a travel agency, who had been conducting 10 to 15 days of trekking and mountaineering expeditions to tribal areas from July to October.
Further, demolition of illegal constructions by administrations also earned bad name for the tourist industry. Fearing inconvenience, tourists were apprehensive of visiting Shimla, Manali and Dharamsala.
The four-laning also caused inconvenience to locals. Besides massive soil erosion in view of vertical cutting of hill sides, dumping the debris down the hills and felling of thousands of trees caused irreparable damaged to forests.
["Source-tribuneindia"]