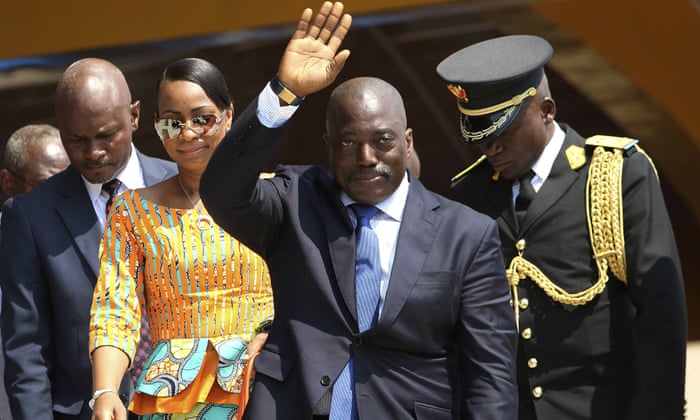 Joseph Kabila (centre) was supposed to step down last year after 16 years as president of the DRC, but has refused to go. Photograph: John Bompengo/AP
The president currently clinging to power in the Democratic Republic of the Congo and his family have a vast network of businesses reaching into almost every sector of the country's economy that are thought to have generated hundreds of millions of dollars in revenues since 2003, according to a report.
Joseph Kabila was supposed to step down last year after 16 years as president, but has refused to go, arguing that his country cannot afford to hold elections.
All the President's Wealth, a report published on Thursday by a research group at New York University, may help to explain why the president – who, polls have showed, would win just 7.8% of the vote if he did allow elections – is so desperate to keep his job.
Kabila owns 71,000 hectares of farmland, both directly and with his children, while his twin sister holds a valuable stake in the state telecoms company, his younger brother has business interests that range from mining and construction to a stake in the Nando's fast-food chain, and two family companies have diamond mining permits for 450km of the country's southern border. Together they own more than 80 companies in the DRC and abroad, either wholly or partially, the report says.
"This is the first in a series of reports where we're trying to hold the leaders of the country accountable to their own laws and their own constitution, and in particular to hold them accountable for the economic management of the country," said Jason Stearns, director of the Congo research group that published the report.
It describes how the Kabila family, which spent the Mobutu years in exile in Dar es Salaam, living in relative poverty, amassed great wealth.
While there are no laws preventing Congolese politicians from owning businesses, the report raises questions about how the Kabila family has amassed such great wealth in two decades, while more than half of their countrymen survive on less than £1 a day.