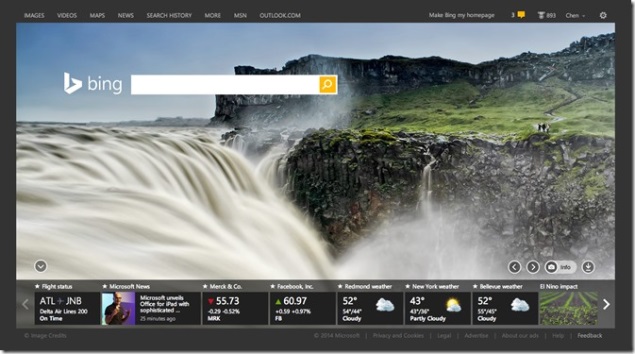 Microsoft on Wednesday introduced new set of personalised cards on Bing.com, showing users news, weather, flights, and stocks details in a tailored form – all as part of the search.
For using the new Bing personalised cards, users will be required to sign in to their Microsoft account and set-up interests to let Bing know what it should track.
Notably, Google's smart mobile assistant, Google Now also fetches information and offers updates based on the user's data and usage behaviour, and shows the details with information cards.
However, the biggest difference in Bing's personalised cards and Google Now is that Microsoft has chosen to bring the cards to a website (Bing.com), rather than the mobile search app (Google Search).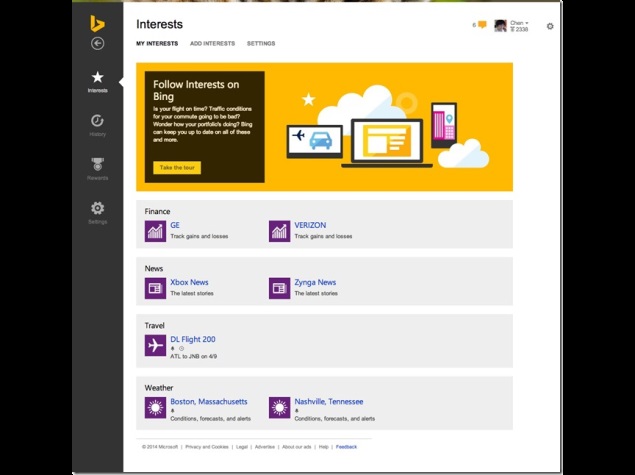 Bing's Program Manager, Chen Fang in a blog post said, "Starting today, we are unveiling a set of personalized cards on the Bing homepage that will help you keep track of things that matter to you. As long as you're signed in, Bing will remember your interests and notify you, as appropriate, across a range of Bing-powered Microsoft services, such as Cortana and the Bing Sports app, for example."
(Also see: Microsoft's Cortana vs. Apple's Siri vs. Google Now)
Microsoft is clearly rolling out updates and new features to its services to support Cortana, its new voice-based virtual assistant which is based on a popular AI character in Microsoft's blockbuster video game franchise, Halo.
Cortana is powered by Bing and is similar to Apple's Siri or Google Now, completely replacing the search feature in Windows Phone 8.1. Interests will be synched between devices, and Wednesday's move marks a step in that integration.
The Redmond giant has revealed that Cortana would be first available in the US as a 'beta' and later would be released in the UK and China in the second half of 2014, while in other countries Cortana might reach by 2015.
Microsoft, in March, rolled out 'Image Match' functionally for its Bing search engine, almost two years after Google first introduced its 'Search by image' feature.
Share a screenshot and win Samsung smartphones worth Rs. 90,000 by participating in the #BrowseFaster contest.
["Source-Gadgets"]