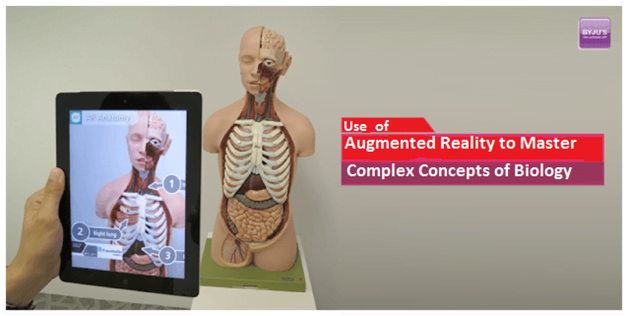 Augment bridge the gap between physical and virtual worlds. It transforms the way we can imagine, feel, learn and see the world around us. Augment Reality is exactly the same as its name signifies. It creates a unique blend unified sense as it acts as a medium wherein in actual world flap with present technology.
For instance, the sounds and images are overlapped over what the user hears and sees. It is an interactive experience. It is pretty different from virtual reality. Virtual reality is "near-reality". This could, of course, mean something that generally refers to a distinct type of reality emulation. On other hand augmented reality computes the reality that you would normally see rather than replacing it.
Augmented reality is no exception in the field of education. It is now an inventive tool that makes your subjects interesting. Students often find it difficult to grasp complex subjects of biological science. Well through AR App Platform students will be able to view collective digital information that superimposes on real-life objects and textbooks. Whether you want to tutor about the animal cell, evolution or about specific plant will allow you to build an app with complete ease.
As you know palaeontology is a study of fossils that illustrate about evolution, as humans in the world. You can create AR (Augmented Reality) apps through which students will be able to learn concepts of Palaeontology such as spores and pollens, trace fossils, fossils of fungi and algae, body fossils, fossils of vertebrates and invertebrates in a more engaging manner. By superimposing multimedia content bring fossils into life.
Learning Botany through traditional classroom methods is not that interactive. Well, you can think out of the box by creating AR app and make learning more interactive and fun.  Just wonder how fun it would when you see your students or a child pointing to their wearable device towards a plant cell and see overlaying digital information.
Augment Reality not only stick to the venue of tablets and mobile phones. Several types of research are being conducted on including augmented reality functionality in contact lenses, smart glasses, ear buds and other wearable devices.
To explore more on Biology related concepts subscribe to the Byju's YouTube channel:<

About Author: Bhavishya.S is presently working as a content writer at Byju's. She loves to pen down her imagination through words. Since when she started her career she has written articles and blogs. If you wish to discuss any related concepts or ideas feel free to drop an email at [email protected]