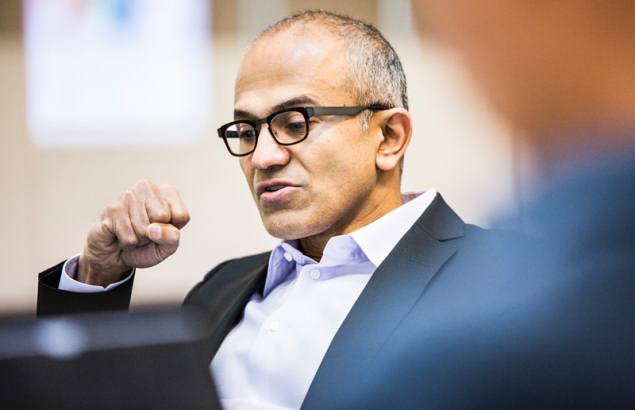 Cricket-loving Satya Nadella will get a base annual salary of $1.2 million as the new CEO of Microsoft, but his overall package after taking into account bonus and stock awards may reach $18 million (Rs. 112 crores) a year, besides various other perks.
As per his new employment agreement, the Indian-origin CEO of $78 billion software major will be paid his salary on "semi-monthly" basis at an annual rate of $1.2 million (Rs 7.5 crores).
46-year-old Nadella, who has been with Microsoft for 22 years, would also be eligible for a cash bonus, which can range from zero to 300 per cent, resulting into total payout of up to $3.6 million.
Besides, he would get stock awards to the tune of $13.2 million, taking the total package to $18 million.
Nadella's annual salary would be determined by the company's Executive Incentive Programme (EIP).
(Also see: Meet Satya Nadella, the new Microsoft CEO)
The top executive would be eligible for an annual EIP stock award worth $13.2 million starting 2015 fiscal year, according to Microsoft's offer letter to Nadella.
"For Microsoft's 2014 and 2015 fiscal years, your annual cash award target will be 300 percent of your salary earned as CEO during the fiscal year. Your actual cash award can be from 0-300 percent of the target and will be based on your performance as evaluated by the Board," the letter said, a copy of which has been submitted to the US market regulator SEC also.
Nadella, who became the third CEO of Microsoft after Bill Gates and Steve Ballmer, was paid an annual salary of $675,000 for the fiscal year 2013 as the president of the firm's server and tools business.
(Also see: Microsoft names new chief; Gates to be adviser)
Going by reports, Nadella pocketed a cash bonus of $1.6 million last year.
Microsoft's fiscal year runs from July 1 to June 30.
"We expect that you will work with the Compensation Committee of the Board to assess and revise, if appropriate, the EIP to ensure alignment with business priorities. There are currently two key components of the EIP," the letter said.
To further align Nadella's interests with the long-term performance of Microsoft, he would be granted Long-Term Performance Stock Awards (LTPSAs).
"One-third of your LTPSAs will be earned based on Microsoft's total shareholder return relative to the S&P 500 over each of three overlapping, five-year performance periods (LTPSA performance periods) commencing on the grant date and the first and second anniversaries thereof," the letter said.
Nadella previously held various senior positions at Microsoft in server and tools, cloud and enterprise, online services and advertising platform divisions. He joined Microsoft in 1992.
Share a screenshot and win Samsung smartphones worth Rs. 90,000 by participating in the #BrowseFaster contest.
["Source-Gadgets"]